Episode 17 - We're Back! Midterm Results and Midwest Foods
Discussion on Midterm election results in Michigan and the Midwest's finest delicacies.
3 years ago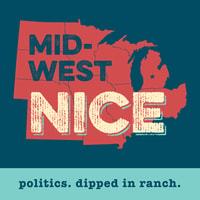 Episode Notes
Today's episode hosted by John Flynn, Amy Libka, Mariel Brown-Fallon, and Campbell Thompson. Topics include: The results of the Midterm election in the Midwest, what that means for the rest of the country, strange Midwest foods, and a generous A&W patron.
Find out more on the Midwest Nice website.