Episode 20 - Polar Vortex, The Elephant in the Room, and a Glorified Coffee Boy
Discussion on the Polar Vortex hitting the Midwest, the worst Republican of the week, and kicking off 2020 way too early.
3 years ago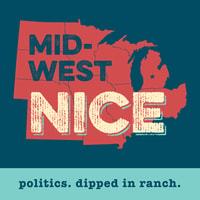 Episode Notes
Today's episode hosted by John Flynn, Amy Libka, Mariel Brown-Fallon, and Evelyn Maidlow. Topics include: The Polar Vortex gripping the Midwest, Lee Chatfield being terrible again, and a glorified coffee boy making a terrible run for President.
Find out more at https://midwest-nice.pinecast.co