Episode 21 - Lavora Barnes get elected, John Engler gets canned, and a Fast Feud
Discussion on the MDP convention and MSU finally firing interim president John Engler.
3 years ago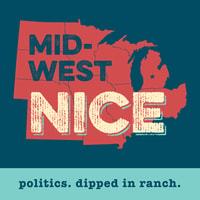 Episode Notes
Today's episode hosted by John Flynn, Amy Libka, and Lauren Coffman. Topics include: Lavora Barnes elected as chair of Michigan Democratic Party, John Engler gets fired as interim president of MSU, and a fast food sign war.
Find out more on the Midwest Nice website.