Episode 13 - Possible Schuette FBI investigation, Redistricting at the Supreme Court, Medical Marijuana in Grand Rapids, and the Right to Bear Snakes
Discussion on Bill Schuette's FBI woes, the Michigan Supreme Court deciding on a redistricting proposal, and medical marijuana coming to Grand Rapids.
4 years ago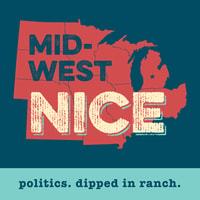 Episode Notes
Today's episode hosted by John Flynn, Amy Libka, and Mariel Brown-Fallon. Questions discussed today: Do Republican voters even care if their candidate is under investigation by the FBI? Will the State Supreme Court allow a redistricting proposal to make it on the ballot? Will Grand Rapids' new ordinance allowing for medical marijuana dispensaries poise it to be the state marijuana capital if recreational marijuana is legalized in November? Do you have the right to bear snakes? All your questions and more will be answered this week.
Find out more on the Midwest Nice website.